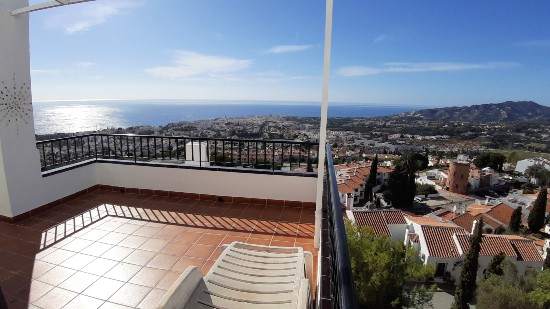 It is clear why Playa Properties elected this home 'Property of the Month in Nerja' december
Every month, Playa Properties takes a closer look at a property that deserves to be in the spotlights. The property of the month is  always characterized by special elements such as breathtaking views, wonderful gardens or a perfect location. In the last month of this crazy year, an apartment in the San Juan de Capistrano (Nerja) district ia elected. A quick glance at the Instagram page of Playa Properties immediately learns why this home gets special attention this month.
The San Juan de Capistrano district is known for its south-facing homes, breathtaking views and well-kept gardens and façades. Especially when it comes to the views, this 'property of the month' takes the cake in the popular residential area: there are only two apartments that are even higher up the hill. The high location is not the only characteristic that makes this hideaway so exclusive; the size of the south-facing terrace is another element that makes many hearts beat faster.
A property like this is only listed once every decade. In addition to the panoramic view, this apartment is also distinguished by the direct access from the bedroom to the terrace. Opening the curtains, you immediately walk into the sun, where a table is ready to enjoy breakfast. In winter you will see the sun rise from the water, after which you will also see the sun disappear into the Mediterranean Sea at around 6 pm. In summer, the sun is shines all day round on the terrace. Looking for a place to hide  away from the heat? No problem. Air conditioning has been installed inside and a new awning has just been installed outside to provide shade throughout the day.
The Area
There is plenty of parking space and even in the summer months there is always a space available for homeowners in Calle Mandarinos. There is a bus stop on one minute walk from the home; from here a bus leaves every hour to the bustling center of Nerja. Opposite the bus stop, the communal swimming pool of the urbanization can be found, which is only accesible for home owners with a pool pass. To top it all off, this 2-bedroom apartment already has a rental license, making this an excellent option as an investment as well.
Take a closer look